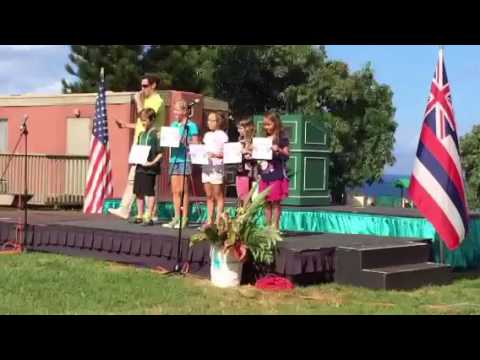 It is hard to believe another year is almost done. The 2015-2016 was a special year in so many ways and in particular celebrating our 10th anniversary. As we watched our children and students step-up to the next grade this past Friday, we were reminded of the reason we have worked so hard.
Some highlights of the morning included the Lower School Citizen of the Year: kindergarten – Kailea Larsen, 1st grade – Ava MacDonald, 2nd grade – Lacy Akana, 3rd grade – Avery Kirkham, 4th grade – Carter Bozich and 5th grade – Mikaela Stedman, the Middle School Citizen of the Year – Olivia Bozich and the Upper School Citizen of the Year – Elizabeth James. Each of these students was carefully selected by their teachers because they have displayed and usually exceeded the tenets of our core values throughout the school year.
As the Lower School students stepped-up and went to spend some time in their upcoming classroom, the Middle and Upper School students were presented with awards for academic improvement and academic achievement in each subject as well as various athletic awards and a community service award. A comprehensive list of award winners can be found here. The grade 12 students were introduced by the college (and their mascot!) they had chosen to attend and acknowledged for the collective 1.2 million dollars worth of scholarships given.
The Rotary Club of Lahaina and Lahaina Rotary Youth Foundation presented scholarships to Ariane Petit, Nick Head, Keiran Clark, Rich Sargent, Suniva Thangaraj, Chantal Charbonnier and Jamie Advincula. The Hawaii Youth Foundation presented a scholarship to Jamie Advincula and St. Andrews Society of Hawaii gave an award to Kieran Clark. The Maui Prep PTSO also presented a $500 scholarship to Rich Sargent.
Two brand new awards from the Hawaii Association of Independent Schools were also presented: the HAIS Vision Award and the HAIS Educator of the Future Award.
The purpose of the Vision Award is to recognize an individual for furthering the HAIS vision by, "preparing himself, herself, and/or others for the challenges of life and social responsibility." The Maui Prep student chosen was Elizabeth James. Principal Ryan Kirkham commented, "Elizabeth is well-respected by younger students, her peers and the Maui Preparatory faculty. Aside from the usual positive examples she sets in class and in the pool, Elizabeth really sets herself apart through her leadership of the Rotary Interact Club of which she is the President. Two highly successful service projects that stand out, thanks to Elizabeth's leadership, are raising funds and goods for an orphanage in Oaxaca, Mexico and acquisition of financial and human resource support in making and serving food at a local homeless shelter."
The HAIS Educator of the Future Award was presented to technology teacher, Branden Hazlet who, "promotes initiatives in equity and justice, global perspectives, and educational technology so that these elements have an even greater profile in schools of the future, researches new approaches and develops capacity to access best thinking and practices, projects and predicts new ways of teaching and learning and capitalizes on new technology for teaching, learning, and communicating."
Congratulations to each and every award recipient. It certainly was a morning of celebration and accolades.
The day culminated with a spectacularly beautiful Arts Night. The Lower School choir opened the evening with a few songs and as the sun went down, audience members were blown away with some of the voices of Maui Prep.
Art teacher, Ms. Shore, transformed the dining hall and put together a stunning display of the students art.
Join us next Friday, May 27 at 6:00, to continue our 10th Anniversary celebrations as we come together and send our seniors on to the next phase of their lives.
{ 0 comments }